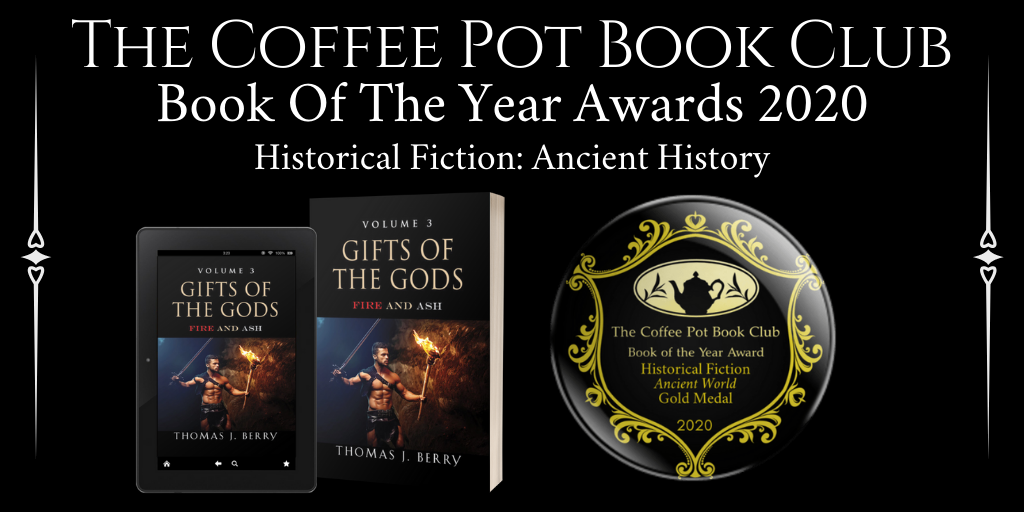 Book Review:
Gifts of the Gods: Fire and Ash
The Whispering Bookworm, Nov 2020
Day 1 of the Coffee Pot Blog Tour
Title: Gifts of the Gods: Fire and Ash
Author: Thomas Berry

The premise of this book sounded amazing, and I was really looking forward to being transported back in time to an era when the mighty Sparta was at war with the equally mighty Athens. Told using five different perspectives this novel explores the later years of the war from both sides, making it an incredibly rounded and unbiased account of this time in history.

The story itself was mesmerising, and I found it very difficult to put this book down. This is a rather long book, but then it does cover a lot of history, but because it is such a joy to read the length did not matter. I enjoyed every minute of it.

The historical detailing in this book really helped to bring this era back to life, and the characters were masterfully drawn, and each one had such an exceedingly engrossing story that I enjoyed reading about them all. But the character I found the most fascinating was probably Xanto who is also one of the youngest members of the cast. Xanto goes through so much in this story, and the war certainly changes him. The war also showed him the kind of man he doesn't want to become. I really enjoyed Xanto's story.

Fire and Ash, Gift from the Gods Book 3, is a wonderfully written book by a very talented author.

Review by Jamie.
The Whispering Bookworm.